Washington & Oregon
Welcome to Pacific Sunrooms! We build sunrooms, conservatories, patio covers, and spa and pool covers in Washington and Oregon. We will help with your home building and remodeling project. We provide services locally in Vancouver, WA and Portland, OR.
Call 503-317-0557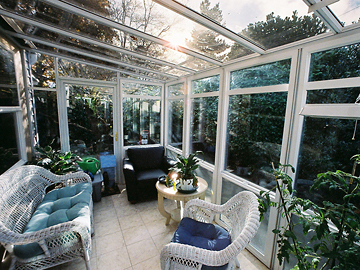 The dream you imagine turns to reality with a sunroom or conservatory from Pacific Sunrooms. Imagine yourself in your own custom-built sunroom, a room that fills with sunlight by day and with the stars by night. Let your home be open to the surroundings of nature. Enjoy the sun, the rain, and even the snow. It's the perfect place for you to read, write, dine, or just relax.
If you're looking for the best sunroom or conservatory for the best value, and for high quality products at low factory prices, look no further. Our products rival any other manufactured products in the world. Pacific Sunrooms is an American brand that offers integrity and style to any home or property. Sunrooms are great for both country and city environments.
The Thermo-Flex glazing system blocks out the bright outdoor light. While inside the sunroom, your vision is unhampered by the glare. You would actually feel that you are outside due to the incredibly crystal clear clarity of the Thermo-Flex.
Vancouver, Washington
Pacific Sunrooms provides services locally in Vancouver, Washington. Contact us at:
Phone: 503-317-0557
Email: sunroomswest@gmail.com
Through detailed groundwork and experience we usually know our client's needs even before meeting them. Every home is a special place that requires special care. Today's consumer expects integrity, quality products, and an attitude of service that goes beyond technicalities. Because we are driven by concern for the client's interest, that's exactly what our clients receive.
Most sites are suitable for immediate installation providing there is a suitably constructed deck or concrete patio area. Most installations are completed in a week to ten days. Give us a call! We'll give you a quick quote for a sunroom. Feel free to email us any pictures or designs. Also ask us about a vinyl upgrade.